Progress meeting in Białystok
---
On October 20-21 a RIGRID progress meeting took place. The two days long session were located in Białystok, a city with Electrum headquarters, the polish coordinator of RIGRID. The first day was for summing up and presenting work completed in the first months of the project durtion. In the afternoon participants travelled to Puńsk, a municipality were the demo installation will be implemented. On the second day of the meeting further course of the work was discussed.
Morning session on the first day concerned a structure, technical, social and economic conditions of the low and medium voltage level power system in Germany and Poland. The partners presented detailed analysis of the situation in both countries, comparing conditions for RES investments. Afterwards the consortium visited Puńsk. There a meeting with the mayor of the municipality were organised and a presentation of cooperation with a local society in connection with RES investment were given by a Dardesheim city representative. In the meeting also the municipal council took part. In the end all the partners were participating in a tour of the target RIGRID investment place – wastewater treatment in Puńsk.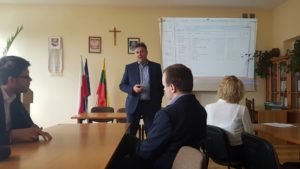 The second day discussions covered documentation of the first work package (comparison of RES investments conditions) as well as further RIGRID activities. The future dates and places of meetings and teleconferences were planned. On the second day also RIGRID logo was selected and some decisions concerning a RIGRID website and other dissemination activities were made.