Kick-off meeting in Magdeburg
---
The RIGRID project has begun with a kick-off meeting in Germany, on 27-28 June, in Magdeburg, the city where the main coordinator's (Fraunhofer IFF) office is placed. On the first day of the session a schedule for the first work package was set up as well as RIGRID goals were clarified. On the second day the participants travelled to Dardesheim in order to see renewable energy infrastructure installed there.
On June 27th RIGRID consortium was discussing how the project will be implemented. Tasks for all of the participating institutions at the first stage of the project were defined and some assumptions concerning a demo installation in Puńsk were made. In the end of the day a tour of Fraunhofer laboratories were organized, the participants have visited energy show room, virtual reality lab, battery storage lab, PMU test bench and electric mobility lab.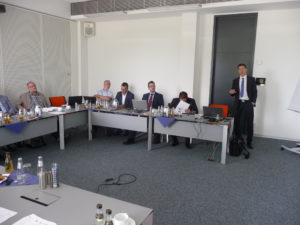 In the beginning of the second day of the meeting the consortium has travelled to Dardesheim, where local activists presented completed RES investments. The participants had an opportunity to see a wind farm in Druiberg and in the afternoon returned to Magdeburg. The meeting was finished with a visit in Smart Grid lab at Otto-von-Guericke University in Magdeburg.