RIGRID demonstrator in Puńsk
---
As a result of the RIGRID project, the demonstration installation will be implemented in the rural commune of Puńsk in Poland. Developed algorithms, methods and telemetry system will be integrated in one interactive energy and infrastructure design tool for the optimal planning and operation of emerging energy infrastructures in rural areas. In order to realize optimal operation strategies modern communication components, data server, services server, alarm, report and visualization modules for centralized and distributed monitoring and control will be integrated.
The system will be implemented using two operating methods. The first one involves making regulatory decisions by the central controller, and afterwards sending control signals to local controllers located in micro sources, energy storage devices and controllable loads using cellular network. The other method of distributed control assumes that the individual local controllers has implemented several algorithms and communicate with each other, and on this basis take regulatory actions by themselves. In both situations system holds supervisory role providing feedback in the form of reports and trends for further analysis and gives for operator the ability to change algorithms parameters.
The existing installation in Puńsk consists of: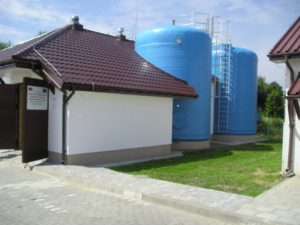 waste water treatment (20kW power consumption),
PV installation (40 kW),
diesel generator (30kW).
The desired RIGRID installation is depicted below.