About Project
---
The pro-integrative planning of renewable energy sources and flexible consumers under consideration of technical, market economy and sociological aspects provides key challenges for establishment of regional smart grid concept. The goal of the RIGRID project is to develop and test new interactive energy and infrastructure design tool for optimal planning and operation of new emerging energy infrastructures in rural areas.
The objective of the RIGRID project is to develop modern management concepts to operate the existing and future energetic infrastructures (e.g. in Germany and Poland) in a more efficient way. The expected impacts will have positive consequences on the reliability of power supply, which will increase, on the emission of CO2, which will decrease, and on visibility of local authorities which will increase for attracting new potential investors to develop green regional smart grids and create new jobs.
The implementation of RIGIRD project will take place in two rural regions, one in Poland and the other in Germany, which present different infrastructures and climatic conditions, but similar problematic of rural regions.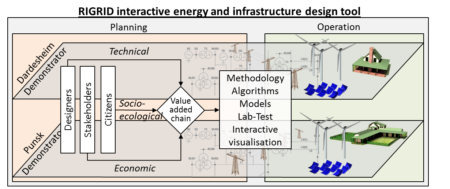 Main Objectives
RIGRID addresses the main objectives of the ERA-Net Smart Grid Plus initiative through the development of methodologies, tools and demonstration in the field of smart grids regarding three research layers:
Technology: The optimal operation of the electrical power system and the integration of new components must guaranty the security of supply to the highest degree possible. With maximal integration of RES the CO2-free supply can be achieved. Together with modern network structures and operation strategies the reliability of supply will be improved or at least remain unchanged on a high level. Power quality parameters will be also kept within permissible limits.
Marketplace: Through the liberalization of the energy market, the integration of the new smart technologies and the participation of new actors can contribute to increase the offer of favourable electricity to the end users. New developments and implementations will normally be followed by the creation of new jobs.
Stakeholder/ Adaptation: The rural areas where these new implementations shall be made will increase prospects for their further development and thus their inhabitants will have perspectives to stay in the region. RIGRID can overcome the socio-economic barriers to widespread user adaptation as well as it can offer the incentives for attracting new residents. Furthermore the modern, sustainable and environment friendly initiatives contribute in arising 'green' landscapes which in turn can create new tourism inventiveness.
RIGRID has an interdisciplinary consortium from Germany and Poland consisting of a research institution, an academy, an industry, a promotion center and local municipalities. The teams is composed by engineers, computer scientists and researchers.
PLEASE CONTACT US IF YOU HAVE INTEREST OR QUESTIONS